Dahui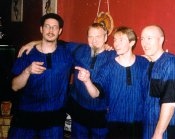 "The Act to Catch"
As observed by Kenne Thomas, Ethiopian Village, Chicago:
"The members of Dahui, many of whom studied in Africa, came out of the rear of the restaurant with djembe's strapped to their chests, flailing with an intensity that immediately captivated everyone. Kids to senior citizens sat at tables, on the floor, and around the walls, mesmerized, writhing to the ostinato of the doundun and polyrhythmic patterns of the djembe. Dancers from the audience took to the stage area seemingly spellbound. With smiles and sweat, bodies undulated in the current of rhythms as all were swept away, collectively beamed to the shores of Cote D'Ivoire. If anyone has a chance to catch this exciting quintet of community drummers, they should do so."
Co-founded by Michael Taylor in 1998, Dahui combines some of Chicagoland's most talented African percussionists: Taylor, John Yost, Rick Neuhaus, and Bill Miller. Playing West African instruments — djembe, dounun, krin — the ensemble performs original arrangements of traditional rhythms as well as fully original works while staying true to the interactive spirit of the West African drum and dance experience.
Engaging the audience in rhythmic dialogue, Dahui opens hearts to participate in community, opens minds to appreciate a different culture, and opens eyes to see one's own culture more truly. Plus, everybody has fun!
Dahui performs regularly around the city of Chicago. To catch the act, keep an eyee on our Events page or sign up for the Holy Goat e-list. Alerts to all our appearances will be sent directly to your email address.
If you think you'd like to book Dahui for an event, call Taylor at (708) 763-8633 or John Yost at (773) 286-0605 to make arrangements or request video samples.